Club Seats
Offering prime locations in the lower bowl, Pinnacle Bank Arena Club Seats put you in the center of all the action. Never miss your favorite concert, family show or sporting event again – Club Seat holders have the first right to purchase tickets for all Pinnacle Bank Arena non-Husker events.
In addition, you will enjoy exclusive access to the Club Lounge located directly behind the seating bowl. This private area features upscale food options, two full-service bars, televisions and private restrooms. Mix and mingle in style.
Club seats are the perfect option to entertain business associates, reward employees or enjoy special nights with family and friends. Priced at $750 per seat, club seats are available on five, seven and ten year terms.
FEATURES & AMENITIES
First right to purchase tickets for Pinnacle Bank Arena non-Husker events

Private entrance and elevator

Access to Club Lounge

Private restrooms in the Club Lounge

Wider seats
PAYMENT SCHEDULE
$750 Total Price
$375 Due with Use Agreement
$375 Due July 1, 2013
TERMS / ANNUAL INCREASE
10 Years (2% Years 6-10)
7 Years (3% Years 4-7)
5 Years (4% Years 3-5)
Direct club seating inquiries to:
Lexi Woodard, Premium Services & Sales Manager
400 Pinnacle Arena Drive
Lincoln, NE 68508
402.904.5599
premium@pinnaclebankarena.com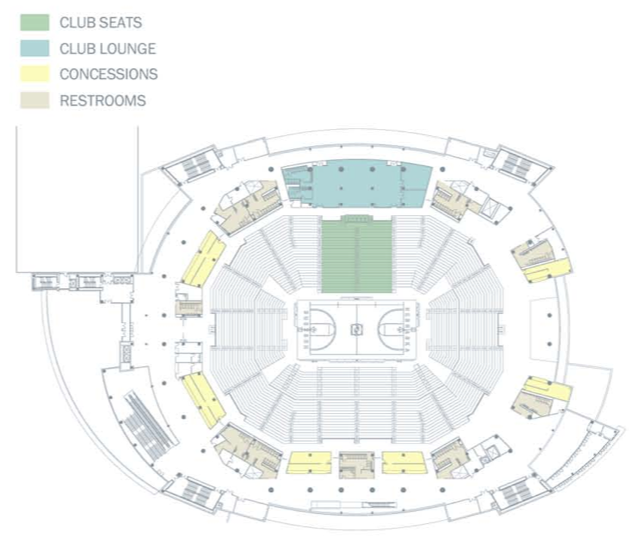 Main Concourse Level
PERSHING CENTER

Click here to check out the upcoming events and concerts at Lincoln's historic Pershing Center.